Normal AC pressure gauge readings
What are normal AC pressure gauge readings?
The gauge images below show normal AC pressure gauge readings for an operational auto AC system. Note that the pressures on the gauges correlate to the ambient temperature at the vehicle. The normal pressures are based on the engine running at 1,500 RPM and the AC turned on with compressor running.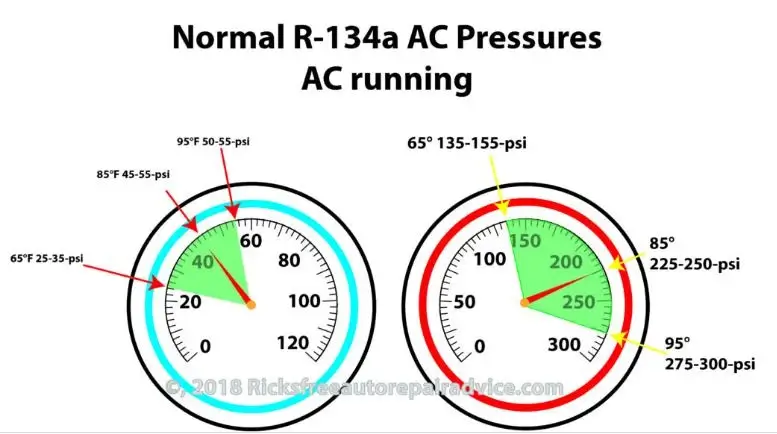 Generally speaking, you want around 27-psi on the low side and 200 on the high side.
Why 27-psi on the low side?
Because, on an R-134a AC system, 27-psi. on your gauge means the refrigerant will produce about 32°F at the evaporator (as long as the orifice tube/expansion valve is operating properly and there's no air in the system that's artificially inflating the pressure to 27-psi). That's just around the freezing point of water.
On the high side, R-134a pressures usually run 2.2 to 2.5 times the ambient temperature entering the condenser. So, if the ambient temperature is 80°F, you'll see high side pressures running between 176-psi and 200-psi. on an R-134a system. At 200-psi. the refrigerant entering the condenser will be around 130°F.
Normal high and low AC pressure gauge readings and ambient temperature pressure chart
Ambient Temperature in °F Low side Pressure Gauge reading and High side Pressure Gauge reading
65°F Ambient temperature: Low side pressure 25-35 psi High side pressure 135-155 psi
70°F Ambient temperature: Low side pressure 35-40 psi High side pressure 145-160 psi
75°F Ambient temperature: Low side pressure 35-45 psi High side pressure 150-170 psi
80°F Ambient temperature: Low side pressure 40-50 psi High side pressure 175-210 psi
85°F Ambient temperature: Low side pressure 45-55 psi High side pressure 225-250 psi
90°F Ambient temperature: Low side pressure 45-55 psi High side pressure 250-270 psi
95°F Ambient temperature: Low side pressure 50.55 psi High side pressure 275.300 psi
100°F Low side pressure 50-55 psi High side pressure 315-325 psi
105°F Ambient temperature: Low side pressure 50-55 psi High side pressure 330-335 psi
110°F Ambient temperature: Low side pressure 50.55 psi High side pressure 340.345 psi
© 2019 Rick Muscoplat
Posted on by Rick Muscoplat
---